International transportation
Global support system linking Okinawa to the world
We support the logistics strategies of customers who are promoting global business development through our import/export customs clearance services from on-site freight collection and packing to customs clearance and deliveries. We also propose transportation routes that are optimal for customers' needs.
International transportation (air cargo, container cargo (FCL),
consolidated cargo (CFS))
We are engaged in freight collection, packing and import/export customs clearance services.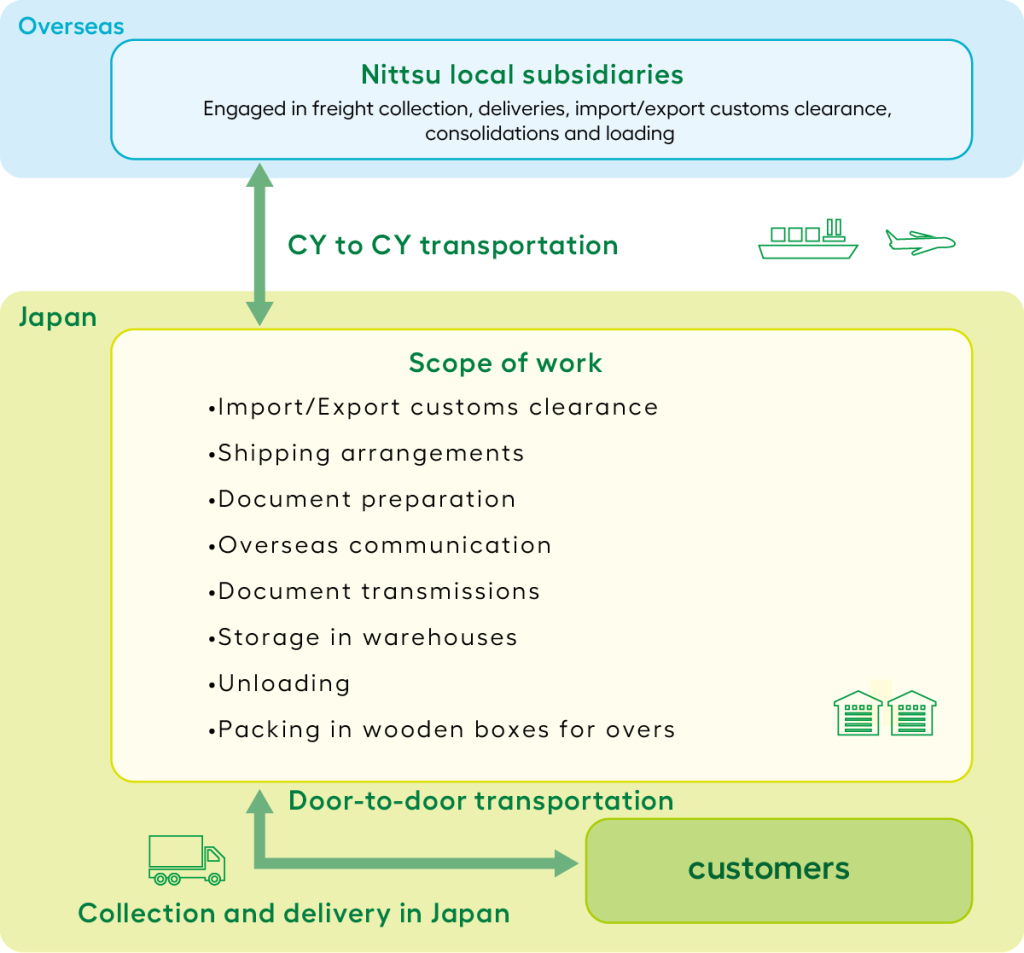 Global logistics service
Total logistics service in Okinawa prefecture
Firmly supporting the logistics strategies of individual customers who are promoting global business development. Global companies trying to advance into the Okinawa market use our company as the most reliable partner.
Features of our export/import services
Customs clearance services
Customs declarations, tax payment procedures, various inspections, etc. of imported freight rapidly dealt with by registered customs specialists for customers Our customs clearance specialists rapidly and smoothly deal with complicated customs clearance operations of imported/exported cargo on behalf of customers.
Permission number: Okinawa Customs #196
Operation of storage in bonded warehouses
As we have bonded warehouses, it allows us to support storage in warehouses (room/constant temperature, frozen storage), in addition to sorting work. (warehousing, inspection, storage, picking, shipment packing, removal)
Logistics operations
Taking advantage of the Nittsu international network, we undertake careful and attentive deliveries responding to detailed needs of customers, such as overseas on-site collection/delivery including large-sized special cargo as well as transportation from Okinawa prefecture to overseas, from overseas to Okinawa prefecture and from Okinawa prefecture to various isolated islands.
Moving overseas
Freight collection, customs clearance, unpacking, etc. in destination country taking advantage of Nittsu local subsidiaries
US military cargo handling operation
Import/Export customs clearance operation of US military cargo, deliveries within US bases, carrying in and out, delivery and installation of long and heavy cargo.
(Many staff members are fluent in English)
Port cargo handling
Carrying-in, setup, disposal
Total support
Cost reductions are possible, due to consistent and total transportation from customs clearance to storage and logistics.
Back to SERVICES